Enter a search term into the form below to search the site; to search a specific phrase please include that phrase within quotation marks (eg "Kittel takes final stage as Van Baarle secures race victory"), or alternatively simply enter specific words to find all instances of those words.
Stoke-on-Trent ready to welcome two major cycling races
5 May 2016
Two major cycling races are coming to Stoke-on-Trent – celebrating the city's year in the spotlight as the UK's European City of Sport.
Two major cycling races are coming to Stoke-on-Trent – celebrating the city's year in the spotlight as the UK's European City of Sport.
Thousands of people living in the Potteries and surrounding areas are expected to pack the streets and watch a raft of top names compete in the Pearl Izumi Tour Series on Thursday, June 2 and a stage finish of the Aviva Women's Tour on Saturday, June 18.
The Tour Series, which will be visiting Stoke-on-Trent for the seventh time, will feature a 1.4km city centre track that starts and finishes outside the main entrance to intu Potteries Shopping Centre. The race will feature the top six British professional teams, led by reigning champions Madison Genesis, and including riders such as double Olympic gold medallist Ed Clancy, and Taylor Gunman, the 2015 Oceania road race winner. Local rider Kian Emadi, who is from Penkhull, could also be taking part in the race.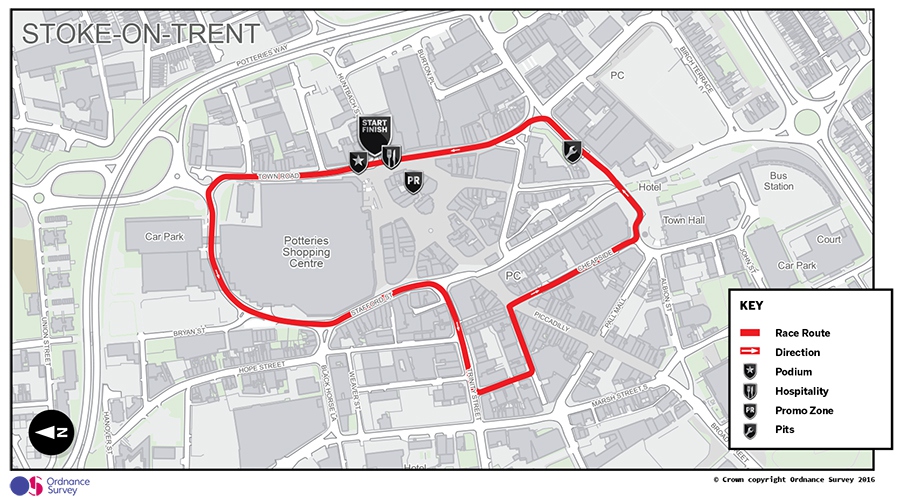 Kian, aged 23, a former St Joseph's College Student, said: "It's great that Stoke-on-Trent is hosting a round of the Tour Series again this year. I grew up and lived in the city and I'm extremely proud to be from such a great place.
"I was very fortunate to be involved with a great network of cycling clubs and culture when I was starting out cycling. Stoke-on-Trent has a history of supporting cycling, with Tour Series events and the Tour of Britain. Hopefully with these two races coming to the city in June, it will continue to promote cycling and also carry on the increase in participation we are seeing."
Then on Saturday, June 18 the Aviva Women's Tour will come to Stoke-on-Trent for the first time. Stage Four will see cyclists race 119km from Nottingham, finishing on Broad Street in Hanley. In total 14 of the world's top 17 female teams will be on the start line in Southwold, Suffolk for stage one of the race three days earlier.
Councillor Terry Follows, Stoke-on-Trent City Council's cabinet member for greener city, development and leisure, said the races – which will both receive national television coverage – would provide fantastic exposure for the city as a great venue for top class sporting events.
He said: "We're delighted to be bringing these two high-profile cycling events to Stoke-on-Trent during our year as a European City of Sport. This city is certainly no stranger to hosting big events like these but to have two coming here in such quick succession is exciting news for everyone.
"It's important we promote healthy sports such as cycling and here in Stoke-on-Trent we have more than 170km of cycle network, the majority of which are traffic-free routes such canal towpaths, river routes and shared footways. There is something for everyone to enjoy regardless of age, ability or fitness level.
"Not only will staging these races raise our profile to a national audience, they will undoubtedly bring in scores of extra visitors to the city, which will provide an economic boost to our shops and businesses. I hope to see lots of people joining in the fun, cheering the cyclists on and hopefully taking up cycling for themselves in the future."
The main men's Tour Series race will start at 8pm, with the women's grand prix race being held between 6.30pm and 7.30pm. Activity and supporting events on the track will begin from 1.30pm. The day itself will be filled with fun events, activities and entertainment for people to get involved with, including cycle coaching on the track, a corporate grand prix for local businesses and organisations and a stage of the Matrix Fitness Grand Prix Series ladies' race. To enter the Corporate Grand Prix please email cityofsport16@stoke.gov.uk.
The Women's Tour will enter the city from Cellarhead and travel down We
rrington Road through Ash Bank and Bucknall, before turning left on Leek Road, right up Botteslow Street and down Potteries Way before finishing on Broad Street at approximately 1.53pm. This year Stoke-on-Trent European City of Sport will be sponsoring the jersey for the best young rider during each stage of the race.
Mick Bennett, race director for both the Pearl Izumi Tour Series and Aviva Women's Tour, said: "We are proud to be playing a key part in Stoke-on-Trent's year as European City of Sport by bringing two high-profile elite cycling events to the city during June.
"This is a great opportunity for the people of Stoke-on-Trent and surrounding areas to support and enjoy two major free-to-attend cycling events in what is a big year for sport in the city, but also an Olympic year with athletes from both events likely to be in action in Rio de Janeiro later this year.
"Having hosted several stages of the men's Tour of Britain in the city it is exciting to be bringing the women's equivalent to Stoke-on-Trent, as we know that the surrounding terrain has often played a key part in deciding the outcome of the men's event. It will also be the first time we have brought an event to the city centre on a Saturday afternoon, so we hope to see increased crowds as a result."
DFP – MPU Footer – Middle