Enter a search term into the form below to search the site; to search a specific phrase please include that phrase within quotation marks (eg "Kittel takes final stage as Van Baarle secures race victory"), or alternatively simply enter specific words to find all instances of those words.
Rider Data Analysis – Stage 5
20 Jun 2016
The final race data report from Drops Cycling rider Rebecca Durrell's efforts in Stage 5 of the Aviva Women's Tour. Her coach, Mark Young, talks us through the facts and figures below:
The final race data report from Drops Cycling rider Rebecca Durrell's efforts in Stage 5 of the Aviva Women's Tour. Her coach, Mark Young, talks us through the facts and figures below:
Stage 5 – Armitstead Brings it Home

Today was about snuffing out any last minute challenges to her Yellow Jersey and I don't think anyone had enough firepower left to launch a big enough challenge to Lizzie Armitstead over the last undulating stage from Northampton to Kettering. The World Champ and the Boels Dolman squad had calculated well, taking thew lead in the Queen Stage and swatting any attempts to unseat her from glory. Well done to her and her team……in fact well done to everyone who raced so hard over the last 5 days, it was awesome to watch and decipher!!

Rebecca's final thoughts.

"We expected the stage to end in a bunch sprint today, so with that in mind, we aimed to protect me as the sprinter during the race, with a top 10 finish as the goal. However, the race panned out differently and a break of 7 managed to stay away. We still committed to the remaining bunch sprint; my legs were feeling good, Alice did a fantastic job of leading me through the final few km and the top 10 was looking promising.
Unfortunately a rider crashed in front of me with only around 500m to go. I had to slam on the brakes to avoid her. All chances of a top 10 were now lost for me. Alice managed to plough on in the sprint and came away with 12th. Great result considering the work she did to keep me protected during the lead up."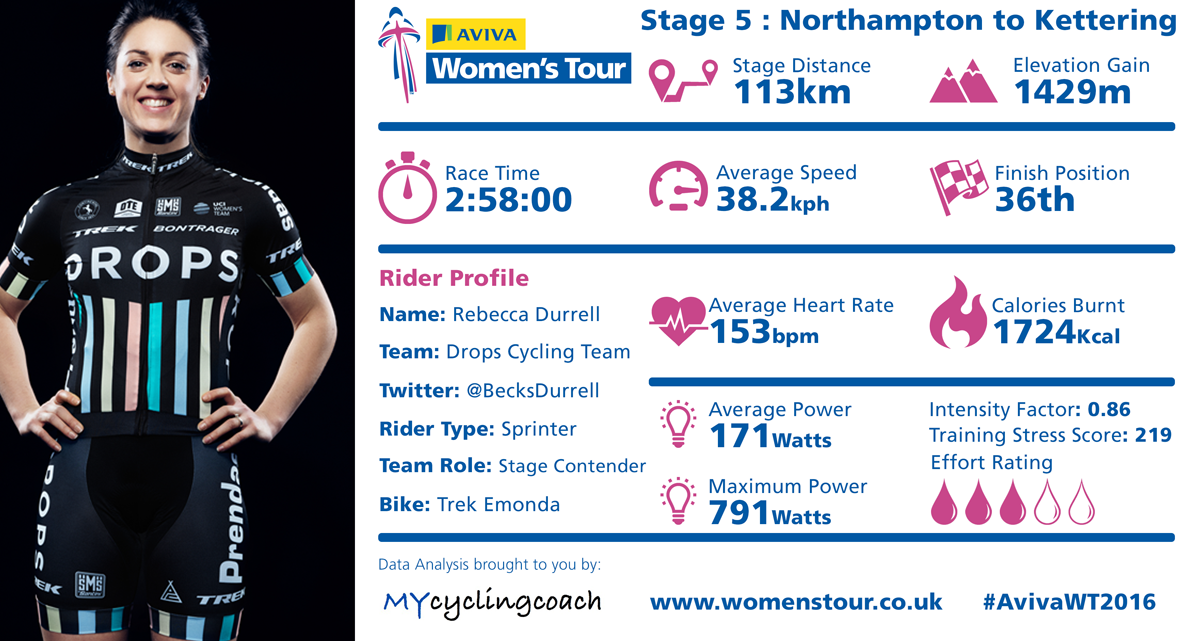 Last Stats

With the Team Policy set for the Stage we can see how with help and shelter, the Training Stress Score of 219 is as low as Stage 1, where again the surfing of the wheels makes a difference.
Still a whopping 1724 calories to find from her energy system, and it looks like she was taking great care of herself before during and after with regards to her nutrition, particularly the recovery part, since her performance doesn't appear to be calorie starved.
Intensity Factor (IF) from today was 0.86 only a 10th lower than the 2 previous stages, and shows how full on the racing actually is all the time! The heart rate average of 153 beats per minute and 185 max, is only trending down a few beats, which for me shows good recovery overnight; many riders end up feeling so fatigued that their heart rate becomes difficult to get high.
Power was back down to 171 watts, sitting in the wheels until you're launching a sprint makes the power drop. Her average was enough to power the Photo Finish Camera, Transponder Chip Decoder, TV screen and Laptop of the Event Timers for 2hrs 58mins of todays Stage, and her Max Power was 791w, a sign of that last 500m crash that appeared in front of her meaning she couldn't get up to full gallop!
As always the interesting number is how much height was climbed and today while not supposed to be anywhere near as much as previous stages, it was still 1429m. Probably from less gradient too.
Graph-tastic

The main things to conclude from this graph above is that Rebecca only had to work really hard two occasions, the first right towards the top of the the 1st Queen of the Mountains at about 50mins; things must have gotten a little tasty there and finally in the run down to the finish, where jostling for a good spot to launch your sprint lifts the intensity.

43 minutes spent not pedalling helps a lot if your not going to use your energy much and save it for the right time. Still plenty of blocks around the 180-220w area.
Becks is pretty happy spinning her legs all day, the two highest (with the exception of not pedalling at all!!) being in the 90-100 revolutions per minute. Much like a the revs of an engine, its important to be able to accelerate briskly when required, and sitting at too low a rev range, makes that difficult to do.
Much like yesterday, Rebecca spent a lot time at 155-170, but unlike yesterday, she wasn't spending anywhere near the time above 170, a function of being shepherded through the bunch.


Slightly different to the last stage 4, with more time spent at 28-32kph, and check out the little blocks away up at 80kph!! Thats 50mph btw!!

Cumulative and Average Stats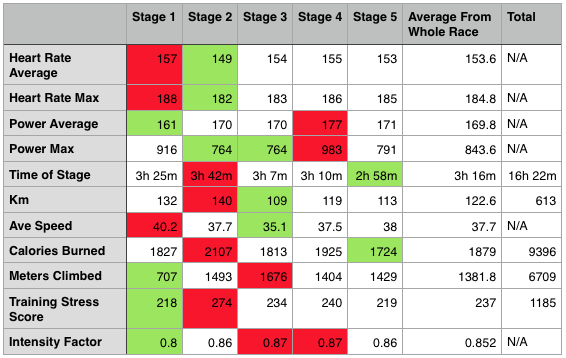 This set of data is the most interesting of the whole lot. The green blocks are the lows and reds are the highs. And they make some interesting reading.

Highest average and highest max heart rate was on day 1 when Rebecca was freshest, but also when the bunch was at its most nervous. And the lowest of both was on day 2 the longest stage.

The highest average and max power was stage 4 where Rebecca was in a break with her team mate. The lowest average power was on day 1 and the lowest max power was the equal day 2 and 3.

As we know, the longest and shortest in time were stages 2 and 5. But in terms of distance travelled it was stages 2 and 3.

The fastest average speed was stage 1 and the slowest was stage 3.
Calories burned seems to be linked strongly with time, with the most being used on stage 2 and the least on stage 5.

As per the manual, the lowest metres climbed was stage 1 and the highest metres climbed was stage 3. Training stress was lowest in stage 1 and highest in stage 3. Finally the intensity at which Rebecca had to ride at for each stage was lowest on stage 1 and highest on stages 3 and 4.

What's interesting to see here is the relationship between heart rate, power and intensity. The Calories, IF and TSS all come from the Power data and not Heart Rate, which helps to see that if we were using Heart Rate as a guide it would be telling us that our performance was getting worse, or that we weren't trying hard enough, something we can clearly see here is not the case.
I particularly like the averages and totals at the end, which really does show how hard bike racing is and how much the human body can be pushed to perform. Hats off to all of the girls.

Conclusion

Before the event, the Drops Cycling Team were rightly pragmatic about what they could achieve at this Womens World Tour event, especially with a field of riders as strong as was there. After Stage 1, I think there was a realisation from within the minds of the riders and management, that they had a right to be there and that their relative performances were only a small percentage away from some next level results. Stage 3 was where the Worlds Best took control, but the Drops riders began to feel a little more comfortable in the race, and by Stage 5 their confidence in themselves and what they could achieve was at its highest.
They should take much away from Aviva Womens Tour in 2016; their hard work, resolve, determination and perseverance will serve them well when they next go into World Class event, and with more time, a wee bit more power in the pedals, a more positive mindset, they will in time be a major force to be reckoned with!!

Well done Bob, the back room team and the Droplets!

Mark

DFP – MPU Footer – Middle