Enter a search term into the form below to search the site; to search a specific phrase please include that phrase within quotation marks (eg "Kittel takes final stage as Van Baarle secures race victory"), or alternatively simply enter specific words to find all instances of those words.
Rider Data Analysis – Stage 4
18 Jun 2016
Check out the data analysis report from Drops Cycling rider Rebecca Durrell's on the penultimate stage of the Tour. Her coach, Mark Young, talks us through the facts and figures below:
Check out the data analysis report from Drops Cycling rider Rebecca Durrell's on the penultimate stage of the Tour. Her coach, Mark Young, talks us through the facts and figures below:
Stage 4

Stage 4 of the 2016 Aviva Women's Tour, may have looked easier on paper, but the 119km from Nottingham to Stoke-on-Trent was anything but. The Route Director Mr Andy Hawes obviously felt that while there were/may be some tired legs from yesterday, this was no excuse to ride easy and look at the scenery, when you should be squeezing every last drop out of yourself in pursuit of glory.
Boels Dolmans Defend Yellow

Once you have the Yellow Jersey, using all your team to defend it becomes the order of the day. Our current World Champ set about keeping herself in Yellow, knowing full well that the time cushion of 5 seconds could easily be lost if she wasn't attentive. Any rider within 30 seconds of Lizzie, could not be allowed the opportunity to ride away and gain time, but maybe just maybe some others who weren't a threat could sneak away……..
More from the Beckster.

"Today's race was a tale of two halves. The first half was a case of following wheels when the attacks came and went and staying relatively fresh for the second half of the race, where the hills and QOMs would split the race up. The second half lived up to expectation and required some deep efforts. The first came when myself and Massey tried to attack and get away from the bunch, unfortunately to no avail.
From there on, it was a case of digging deep to hold on up the climbs and also hold my nerve on the fast descents. After the final QOM, I found myself in a relatively small chasing group with Alice, Massey and Hannah, so made sure to take a few turns on the front, pulling the group along to keep the time gap to the riders ahead to a minimum, therefore protecting our GC interests.
The final 5km became fast and fairly technical, ending in a sprint to the line. Very happy with the whole team performance today considering tired legs and another tough parcours."
Statistics
This alleged easier day just didn't materialise and with a Training Stress Score of 240 medium it garnered more points than yesterday (234 st3, 274 st2, 218 st1). Partly due to the longer distance, but also the fact that the pace was pretty fast all day long.

She used 1925 calories (1813 st3, 2107 st2, 1827 st1), those extra 10km making all the difference to the total amount of energy required.
Intensity Factor (IF) from today was the same as yesterday at 0.87 (0.87 st3, 0.86 st2, 0.8 st1) showing that the bunch racing just didn't let up even with all those tired bodies. Riders weren't afraid to make the Yellow jersey work for it. The stochastic nature of bike racing shows up with lots of fast riding interspersed with slow riding.
Her heart rate average of 155 beats per minute and 186 max, marginally higher, which I feel is due to the fact that Rebecca felt more comfortable in the bunch and was taking part a little more.

Power was a bit higher for the days average at 177 watts, powering a small fridge for 3hrs 10mins of todays Stage, and her Max Power was much higher today at 983w, maybe enough to get a small coffee machine to splutter into life for two or three of those hot bursts into your cup! We shall find out where and why that power was so high today.
As always the interesting number is how much height was climbed and today while not supposed to be as tough as yesterday, was still 1404m, 200m or so less than Stage 3.
Sneaky Peaky
I thought I would focus in on something a little bit, since it makes interesting reading. The graph above shows red as heart rate, blue as height in metres and yellow as power. Their relationship to each other shows up in the fact that when the profile is lower ie less climbing, that inside the bunch Rebecca is doing a lot of on-off pedalling. Its when the jagged teeth of the hillier parts rear upwards from about 2hrs 15, that we see Rebecca have to make more concerted efforts. But what you can also see is that while Heart Rate in red is steady the power begins to fall away slightly; Im guessing that the cumulative fatigue makes power more difficult to produce, but still elevates the Heart Rate. There are two areas which I have highlighted that I thought I would discuss.
This is the section from just before the feed zone near Uttoxeter, and after a quick call to Becks, she was able to help me understand why I saw her Max Power of 983w in somewhere that didn't involve a Sprint Point or even the finish. Right around 1hr 50m Rebecca and her team mate attempted a quick escape in a lull in the action, but as per her text, this was quickly shut down. There appears to have been a few attacks there and it was the 3rd effort that was the one Rebecca put out her highest power.
At the very end of the file, you can see evidence of the quickening of the pace to ensure positioning and as a little time loss to the escaped leaders. Her Heart Rate and power very slowly increase over the last 5.5km, while she is helping her team mates keep the pace high to the finish, and of course there was a bunch gallop to complete things where Rebecca was baulked a little by a rider pulling out and not quite accelerating out of the way.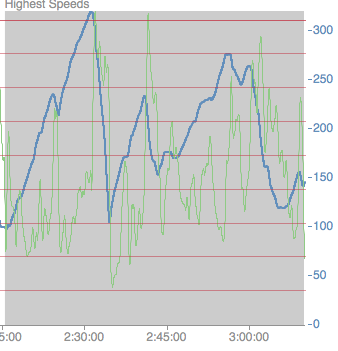 This smaller snapshot, shows the relationship between height climbed and speed. Clearly we see slow speeds going up and 70kph plus coming down. These high speeds are pretty tough to deal mentally, since there are many others around you who's bike handling habits and skills you must trust as you descend on narrow roads and wet corners.
This bin graph is a contrast to yesterday where the blocks were stacked up much nearer the 170-175. 165-170 is a much more manageable level of intensity for Rebecca to handle and work at for long periods. Its possible that while overall Rebecca worked as hard as yesterday, she wasn't going so deep, and by that I mean using her ANL or ANA energy systems as much as her AER.

Here is another example of how today was different. Yesterday Rebecca spent more than 40mins not pedalling, but today she spent nearer 35mins, despite the day being 3 minutes longer. The little blocks up to 200w are also fuller, indicating that she may have been riding steadier and maybe even much further up the bunch.
Yesterday was stacked up with big blocks at much slower speeds, while today, there was a much steadier speed to things, and in fact the optimum speed today appears to have been from 38-46kph.


Summary

Make no mistake, racing at this level takes a very high level of fitness; to be able to ride this hard for four days straight can attest to that. But it really does boil down to a few fundamental things.
1) Pedal hard at the right time to win
2) Use your resources sparingly
3) Get others to help

I find it interesting to postulate that when a rider begins to realise where they need to be and what they need to be doing given the situation they find themselves in, they become more thoughtful about using their resources. Sitting too far back reacting to what others are doing wastes precious tokens, and they aren't inexhaustible, while being more attentive an integral part of the action inside the group is a far more productive spend. I suspect this may have been something that Rebecca was doing much more today, and hopefully if her and the rest of the Drops Cycling Team can remain positive about their position in the pecking order of a WWT event, they may just get something from tomorrows final stage.


Mark
DFP – MPU Footer – Middle