Enter a search term into the form below to search the site; to search a specific phrase please include that phrase within quotation marks (eg "Kittel takes final stage as Van Baarle secures race victory"), or alternatively simply enter specific words to find all instances of those words.
Rider Data Analysis – Stage 3
17 Jun 2016
Check out the data analysis report from Drops Cycling rider Rebecca Durrell's day on the Queen Stage! Her coach, Mark Young, talks us through the facts and figures below:
Check out the data analysis report from Drops Cycling rider Rebecca Durrell's day on the Queen Stage! Her coach, Mark Young, talks us through the facts and figures below:
Stage 3

Stage 3 of the 2016 Aviva Women's Tour, the Queen Stage, was a shorter 109km smashfest from Ashbourne to Chesterfield via any steep incline that was available in the Derbyshire Peaks District. Last year the Pro Riders asked if the Stages could be a bit harder and longer; well, yesterday was long and today was much harder!

Anyone with ambitions to win this race, will surely have targeted this most brutal of stages to make a run at the overall leaders yellow jersey, and so it came to pass (need to use legendary phrases because of the epicness of the day), that the World Champion Lizzie Armitstead wielded her substantial supremacy and cast asunder her adversaries like…………..insert an appropriate Top Gear saying here!
Epic Epic Epic

Even before the riders left Ashbourne, they knew that the cream would rise to the top and that if you weren't on top form, or had spent all your effort on the previous day's stages, then today was going to be a very tough day in the saddle.

Did this foreboding prevent them from giving it their all? No, in fact it is in these most trying of circumstances that you truly find out about how deep you can go, how much you are willing to suffer to win, to be there, to make it to the end.

Rebecca tells us her story on this mythical day.

"Today was a great stage; incredibly tough but very satisfying. With it being the Queen stage of the tour there was bucket loads of climbing involved. It's not somewhere where more sprint-orientated riders tend to thrive, therefore my individual aim was to get through the stage keeping myself fresh as possible for the next 2 days whilst still being involved in the racing.

Felt strong today. Stayed with the lead bunch until the crest of the 2nd QOM where I blew up and couldn't hold the wheels. Jen (George) and I worked together to try and get back on to the bunch, but we couldn't get across. We then got caught by a chase bunch, who we remained with until the finish."
Statistics
Todays Training Stress Score was 234, again medium (274 st2, 218 st1), but now with 3 days back to back of these medium days, things begin to take their toll. Fatigue in the muscles from constant use, which is basically that they have to work hard, and that whole process of energy production and use does damage which needs time to repair…time Rebecca only has in between the stages, which isn't really enough to completely recover.

She burned through 1813 calories (2107 st2, 1827 st1), which is less than the previous day's totals, but bear in mind the distance of the stage was considerably shorter. Again this cumulative energy consumption can have a drastic effect on things in the next 2 stages, if Rebecca hasn't been able to replace the 3 day's calorie burn. Her body would in effect be looking for energy from within her stores (fats and proteins) and would have to use that to fuel her. This isn't a great option; carbs are much easier for the body to turn into usable energy than fat or protein…but that is another story.

Intensity Factor (IF) from today was 0.87 (0.86 st2, 0.8 st1), highlighting the fact that often Rebecca would have to fuel the effort to push the pedals round up those tortuous climbs using her Anaerobic Lactic system, the one that produces the toxic exhaust fumes we call acidosis.

Her heart rate average of 154 beats per minute and 183 max, higher than yesterday and also the same narrow range. The Power that was needed to hang on turned out be the exact same as yesterday….and I have checked it over 3 times to make sure!!

170 watts average, which could possibly keep your Granny warm in her bed with the electric blanket on low to medium for the 3hrs 7mins of todays Stage, while her Max Power was again the exact same at 764 watts, enough to bring top life your typical small fridge a couple of minutes.

Bearing in mind that yesterday was of course a little bit lumpy, with 1493m of climbing, it was surprising to see that actually Rebecca only climbed another 200m, at 1676m, however, those hills today were all very steep, and were packed into a much shorter 109km.
Drillin it down
Just Power data from today and the subtle nature of analysing this reveals a couple of small things to discuss.
The 3 things that stand out from this are the 2 high spikes; one at 50mins and one much later at 2hrs 25m, indicating that Rebecca had to very quickly make a choice to react to attacks or she decided that an effort was necessary to stay in touch. The other thing that is noticeable is the very steady nature of the section from 2hrs to 2hrs 20, which from her text above appears to have been when her and Jen George were marooned in no mans land working together as a duo.

When you check this graph which is the Heart Rate and Elevation graph into the mix, its clear to see that there must have been an attack on a downhill section before the 2nd climb, which Rebecca felt compelled to respond to. For the Smooth section of power, we can also see that its the point when Rebecca was hanging on to the main group and then "blew up" forcing her to ride at a more manageable effort, probably where the acidosis was able to be tolerated.

Speed definitely shows the steepness of the roads in Derbyshire, with very low speeds of 15kph going up, and over 70kph going down!!!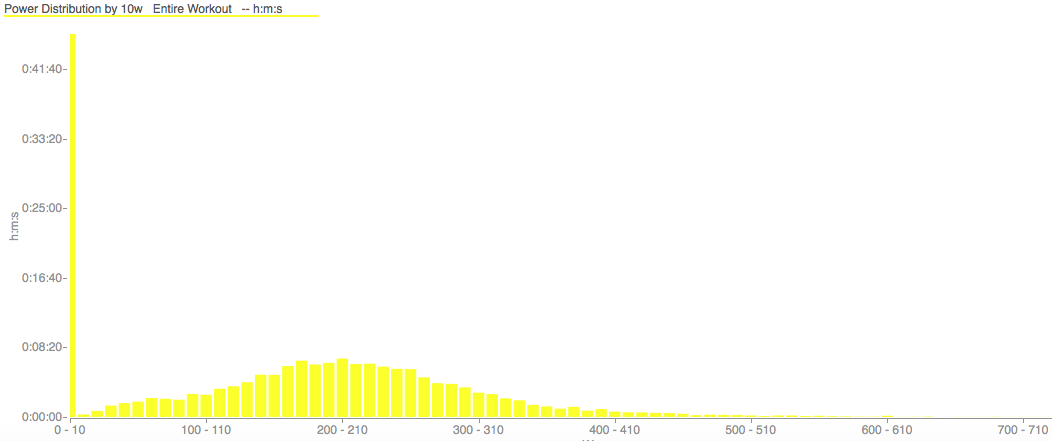 Power bins and it's a very similar story, in that freewheeling for about 27% of the time. Once you go downhill at a certain speed, there is no point in pedalling, and since the rider who pedals the hardest at the right time is the winner, it would be very cool to have seen Lizzie Armisteads Power bins as an overlay. Distribution of the power not only shows us what the rider has had to do to ride, it also shows us what needs to be trained to give Rebecca a bit more power.

Remember yesterday, I said that Rebecca had a change over from AER to ANL right around 173? Well it shows up here, in that she was spending lots of time right at that level, and beyond that her body wont last too long supplying her energy. Whats important to say here is that this is not something we can change to make these numbers bigger, in fact its more likely that with a highly trained heart pumping the blood, it would pump a little slower as it becomes more efficient. As a highly tuned athlete, its not likely we will get Rebecca's heart to be much more efficient, more that we hope we can get more power output for the same BPMs
Lastly, the Speed graph, showing lots of slow speed on the very steep inclines for much of the time. backing up the assertions of the graph earlier.

Summary

This day will live long in the memories of many of the riders, who will rightly tell stories of torment, torture and mythical misery which they will cherish and hold dear to their hearts. Until of course tomorrow, when they will have their senses assaulted again, reminding them how hard this sport can be at the highest level.
The accruing stresses from all of the energy production, the consumption of food, the constant muscle contractions and the harsh weather creates a difficult environment for the human body to thrive in, and its this build up that hampers the the ability to perform, something that separates the winners from the losers.
At the level Rebecca and the other droplets are competing, there are very very small margins between all the riders, but all it takes is a few percent of difference to show…today the best riders did just that.

– Mark
DFP – MPU Footer – Middle